October 2007
Program
Carlisle Visitors' Center, Tuesday, October 2, 7 PM
Misadventures and Mayhem: 30 Years of Birding
Jim McCarty, Plain Dealer
Jim McCarty is a columnist for the Cleveland Plain Dealer for which he covers several areas. He has been a birder for over 30 years and is well known to local birders for his column Aerial View, which appears every Thursday in the Plain Dealer.
Field Trip
Saturday, October 6, 8:30 AM
Carlisle Reservation, Visitors' Center
Hike to Wetlands
Board Meeting
Tuesday, September 25, 6:30 PM
Oberlin Depot
Young Birders Hike
Sandy Ridge , Saturday October 13, 8 AM
Oak Openings Field Trip
May 26, 2007
By Joann Wagner
In spite of overcast skies and some drizzle on the Ohio Turnpike, sixteen Black River Audubon members enjoyed another enlightening visit to Oak Openings and its Oak Savannah restoration.
Immediately upon arrival, we noticed much tree cutting. My first thought was about Emerald Ash Borer infestation, but the trees were White Pines, cut because the species is not indigenous in the original ecosystem.
This year's guide, Bob Jacksy, directed us to an ancient glacial-beach ridge. The prevailing winds move the ridge eastward about 50-100 feet per year. The ridge has reached a high line of trees, east of which is a drop-off and low marsh area. It will be interesting to follow the progression in the next 10-15 years.
In a large, sandy, open field with sparse growth: a few scattered shrubs and small trees, we spotted Ovenbird, Carolina Wren, Tree Swallow, Eastern Kingbird, Indigo Bunting, American Goldfinch, Eastern Wood-Pewee, Chipping Sparrow, Field Sparrow, and exciting views of colorful Lark Sparrows.
In the taller perimeter trees we saw Tufted Titmouse, Black-capped Chickadee, Northern Cardinal, Eastern Towhee, Eastern Bluebird, Baltimore Oriole, Blue Jay, Brown-headed Cowbird, Summer Tanager, American Kestrel, Northern Flicker, and House Sparrow.
Next we traveled east and north towards the area where Blue Grosbeaks had been reported. On our way we identified Hooded Warbler, Great-crested Flycatcher, Wood Thrush, White-breasted Nuthatch, and American Robin, as well as European Starling, House Finch, Mallard, Mute Swan, Great Egret, Great Blue Heron, Chimney Swift, Killdeer, and Red-shouldered Hawk.
At the proper sighting area, we set up scopes and immediately saw in the distance a robin-sized dark blue bird. We debated between Indigo Bunting and Blue Grosbeak, but ruled for the Grosbeak because of size and distance. We scoped from 2 sides of the square field but the bird was at the furthest corner. Indigo Buntings are by far the most prevalent nester in the Park.
Bob showed us lovely Yellow Lady Slippers, Gaywing, Wild Geranium, Mountain Phlox, Bladder Campion, Dwarf Dandelion, Dewberry, Plains Puccoon, Frostweed Serviceberry (Helianthemum canadense), and the fascinating Earth Star mushrooms.
The rains and our hike ended and we took "the back roads" homewardthrough White House and intoWaterville, where we again enjoyed lunch at a friendly "Chowder house" type of restaurant, relocated and enlarged since last year.
Bacon Woods Summer Tureen
Saturday, August 11, 2007
By Joann Wagner
Six Black River Audubon members enjoyed a warm but pleasant morning walk observing birds, plants, mushrooms, and butterflies.
Bird species identified included Red-bellied Woodpecker, Downy Woodpecker, Pileated Woodpecker; Northern Flicker, Eastern Bluebird, Acadian Flycatcher, Indigo Bunting, American Goldfinch, Turkey Vulture, White-breasted Nuthatch, Gray Catbird, Tufted Titmouse, Chipping Sparrow, Field Sparrow, Song Sparrow, House Sparrow; a mob of American Crows, Red-eyed Vireo, and other expected summer birds.
We observed Summer Azure, Tiger-swallowtail, White-cabbage, Cloudless Sulphur, and many Silver-spotted Skipper butterflies.
To top off the event, we enjoyed a refreshing lunch of fresh Italian tomatoes, tossed salad, portions of a sub sandwich, deviled eggs, and doughnuts.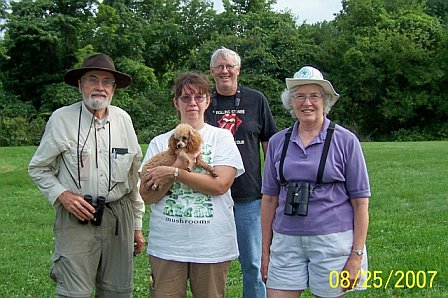 Indian Hollow Tureen photo by Larry Morton
Indian Hollow Summer Tureen
Saturday, August 25, 2007
By Jenny Austin
After waiting fifteen minutes past the scheduled 9 AM starting time, Ken and Jenny Austin, with their small dog, Sissy, set out on a short hike through the woods. Sissy soon became excited about a flock of domestic geese, but Ken and Jenny persuaded her to move on. They saw cardinals and goldfinches and heard a Red-eyed Vireo back in the woods. The abundant fungi covering the forest floor excited Ken. Undoubtedly the previous week's hot and steamy days had encouraged the growth of the fungi with their striking color. Ken and Sissy wanted to investigate all the fungi.
Jenny swears that on the way back across the bridge, Sissy communicated with a small friend going towards the woods. Sissy told him what to look for and cautioned him to be careful and not eat the fungi because they might give him a bellyache.
Upon arrival at their car, the hikers met Larry and Sophia Morton, who arrived shortly after the Austins started on their hike. The group then enjoyed a breakfast of muffins, melons, eggs, nuts, and juice.
After breakfast the group retraced the trail. They spotted Cedar Waxwings, American Goldfinches, Northern Cardinals, Great Blue Herons, White-breasted Nuthatches, Gray Catbirds, and, on the top a tree, an Eastern Kingbird surveying his kingdom.
GOALS AND OBJECTIVES FOR 2007-8
By President Harriet Alger
The following projects and activities have been approved by the Black River Audubon Board for 2007-8:
* Conduct monthly meetings with programs featuring topics and speakers on birds, relationships with other wildlife, and the importance of environmental conservation.
* Publish a monthly newsletter, Wingtips, from September through May, continuing the innovations of last year, i.e. color photos on the covers
and expanded coverage, which have resulted in increased reader interest and response.
* Continue initiatives to attract and keep new members. This year letters with greetings and information were sent to all new members, both National Audubon and local. BR members served as greeters at monthly meetings and special efforts were made to help new birders with bird ID on our monthly field trips.
* Sponsor monthly weekend field trips to Important Bird Areas in North Central and Northwest Ohio, with Black River Audubon members as guides, plus guides most familiar with each IBA.
* Continue monitoring our Bluebird Trail. We have added 66 nesting boxes this year with 4 new volunteer monitors and now maintain and monitor about 250 boxes in 15 locations with 15 volunteers.
* Members will continue to record observations of birds in local IBA's on our BRAS e-bird site (eBird sponsored by Audubon and Cornell). This local information is being used to chart the observations and eventually identify local birding hot spots for a Lorain County Birding Trail.
* Co-sponsor programs again this year with Lorain County Metro Parks, featuring outstanding speakers who will attract not only current birding enthusiasts but be of interest to the general public. Last year's speakers included Bill Thompson, III, David Kline, Amish farmer and birder, and Kim and Kenn Kaufman.
* Continue to furnish Audubon Adventures kits to 3rd-6th grade classrooms and home schooling families. The number of kits, 45, donated to educational settings last year was more than twice the number of kits donated the year before and we hope to add more this year.
* Establish a Young Birders' Club, as a local affiliate to the Ohio YBC, for 12-18 year olds. Initial field trip for this age group on June 9 was very successful. Monthly field trips will begin in September 2007 in cooperation with Lorain County Metro Parks' naturalists. We will also offer one field trip a season during 2007-8 for a Young Birders' group of 8-11 year olds.
* Initiate special birding hikes at Sandy Ridge for those who are physically challenged and have difficulty walking the trail, using a tram furnished by Metro Parks.
* Continue to maintain two conservation and education projects established in cooperation with Lorain County Community College on the College campus: (1) a Meadow Preserve for nesting Bobolinks, Savannah Sparrows Eastern Meadowlarks, and Bluebird boxes and (2) a Nature Interpretive Trail with numbered markers for trees, plants and flowers, and handouts available at each end of the trail for identification.
* Continue the second year of a 5 year campaign in coordination with National Audubon and Audubon Ohio to promote bird and butterfly "friendly" backyards, schoolyards and communities. A PowerPoint presentation for community groups has been developed in two formats, an untimed version which will be accompanied by a speaker and a kiosk version which runs automatically and continually for use at some events.
* Continue a series of bird hikes during the week in some of the local Metro Parks and active birding sites in the Black River area, to be led by BR members who regularly bird in those areas.
* Continue to develop a long range plan to refine and establish goals ands objectives for the future.
Summary: Proposed Budget 2007-8
By President Harriet Alger
(Dollars)
Estimated Income
Bank balance (July 1, 2007) 10,509
Dedicated funds 6,520
Unrestricted funds 10,421
Total 2007-8 27,450
Estimated Expenses
Dedicated categories 6,225
General expenses 12,200
Discretionary fund 9,025
Total 2007-8 27,450
By Jannah Tucker, Naturalist, Lorain County Metro Parks
As a naturalist, I have always looked for opportunities to expand my knowledge base in every facet of nature identification. Birds have been a particular interest of mine, but I have found it a difficult area to study and to interpret to park visitors. So when the opportunity arose for a scholarship to Hog Island for Field Ornithology, I was immediately interested. When I was awarded this scholarship, I could not wait for the learning experience to begin.
Upon arriving at Hog Island I was immediately impressed. The breathtaking ocean bay view was welcoming, and the facilities were very quaint. That first evening, we met the instructors, and Scott Wiedensaul gave a presentation called "A Celebration of Flight". His talk was phenomenal, and he evoked a passion for birds like no one I had ever met before. At this point, I realized that I would be learning from some of the greatest bird researchers and bird identification pros in the world, and this experience would not only be educational, it would be life changing.
My favorite excursion during the week was to Eastern Egg Rock Island to see the puffins and other sea birds. The puffins were incredible, and it was even more incredible to learn about how their populations have been restored to that area over the past thirty years. I also saw several other sea birds for the first time including Gannets, Laughing Gulls, and guillemots.
Thank you Black River Audubon Society for giving me this scholarship. I could not have asked for a better learning environment than what was present at the camp. With more bird knowledge and birding skills, I now feel more comfortable to lead bird programs through the Metro Parks, and I have birding programs scheduled for this fall.
Overall, I learned and experienced so much that is difficult to narrow down what impacted me the most. However, one great bit of advice that I received is quite simple. During one session Kenn Kaufman said, "Don't let bird identification get you down, bird watching is really about enjoyment." Hopefully through my programs I will also be able to convey this very important message that bird watching is fun!
(Editors' note: The Black River Audubon Society maintains a Scholarship Trust Fund whose value on June 30, 2007 was almost $32,000. Capital gains are reinvested, and the dividends support the cost of one week at the Audubon Hog Island Camp in Maine. Transportation costs are borne by the Scholarship recipient. Jannah will give a brief talk about her experiences at our October 2 meeting.)
By Harry Spencer
During the last few years, I have enjoyed birding regularly along many of the Carlisle Reservation trails. My constant companion, Star, my Cairn Terrier, and I hike almost daily. She started accompanying me as a puppy and has continued in that role ever since.
Birding in one general area on a more or less regular schedule offers many rewards. Walking regularly is simultaneously healthy and enjoyable. An attentive regular walker along a woodland or field trail observes both expected and unexpected sights, sounds, and aromas.
Where are the various habitats along the trail? Which birds frequent a particular habitat? In any particular area, are the observed birds and their numbers similar to those of last year? Where are the Yellow Warbler's favorite areas? Where are the Orchard and Baltimore Orioles nesting? Are the Hooded Warblers back? Did the early cutting of the fields last year discourage the return of the Bobolinks? Are the Coopers Hawks returning to the same nesting areas? Did the spring storm that blew down the dead elm also discourage the Ruby-throated Hummingbirds from perching in that area during the summer?
These are some of the questions that I asked myself about Carlisle. Part of them I have answered, some not. But only a regular birder can hope to answer them. Finding answers, even those that are somewhat speculative, enhances the joys of birding.
A side benefit is meeting non-birders who regularly hike the trails. At Carlisle many of those regular hikers are dog owners as well. A pair of binoculars hung from the neck and frequent use of the binoculars to see something ahead or in tree tops soon identifies me as a birder, and often non-birders stop to ask questions about a bird seen in some backyard or on the trail. Recently Judy, walking Lobo, asked about a chicken-sized bird fishing in her home pond. She described the bird as brown with a streak of white on its breast and with a short neck greatly extended in flight. I showed her the Green Heron pictures in Kaufman's field guide, and she recognized her bird. I hope that Judy's enjoyment in bird watching has been enhanced.
Within the general area covered by the Black River Audubon Society are several birding hot spots in need of regular monitors. Bacon Woods is one of the best birding areas, yet no one regularly both observes the birds and records his or her observations on our eBird site. Wellington Reservation is a new area that has proven to be a true hot spot, but it is not regularly monitored, at least by anyone recording identifications on our eBird site. A third example is Findley State Park . There are others.
Birders of all degrees of skill -- from complete beginner to expert -- can profit and enjoy birding regularly. An expert only needs directions about how to record observations. A beginner may want considerable guidance. If so, we can provide it and suggest a plan for learning birding skills. And one of the best ways of learning birding is to accompany an experienced birder. We can arrange such cooperation. The only qualification is a desire to learn and enjoy birding. If you are interested in regular birding, such as monitoring a particular area once a week, or even once a month, please contact me at 440 775-2929 or meshes@verizon.net.
WINGTIPS NOW on the WEB!
WINGTIPS is now online, available through a link at our home page, www.blackriveraudubon.org. Just click on WINGTIPS NEWSLETTER.
The WINGTIP editors thank Scott Spencer of Arlington, VA for volunteering to set up the appropriate system for installing WINGTIPS on the Black River Audubon web site. One of our newer members, Arlene Lengyel skillfully and promptly carried out the installation, and we thank her for her cheerful contribution.
By Carol Leininger
U Uropygial gland
Daily care of feathers is essential for birds. The feathers become brittle without application of waxy secretions from the uropygial gland (preen gland). The gland is located on the rump at the base of the tail. Its secretion is an oil that is rich in waxes, fatty acids, fat, and water. The bird applies this secretion with its bill. On the feathers the oil cleans, preserves moistness, and maintains flexibility. Regular applications sustain the oil's insulating and waterproofing functions.
Certain preen-gland lipids protect feathers against fungi and discourage feather lice. The foul smelling preen-gland secretions of some species may repel mammalian predators.
Diligent preening helps the birds' flying ability, and to avoid danger, birds must be always ready to fly.
Yellowlegs
Tringa melanoleuca and Tringa flavipes
By Jack Smith
Pictured below are photos of a Greater Yellowlegs and a Lesser Yellowlegs. These birds, traditionally called shore birds, are noted for their brilliant yellow legs (rarely orange). These two species are closely related and look very much alike except that the Greater Yellowlegs is 25 to 30% larger than the Lesser Yellowlegs. When both are present in a mud flat the difference is obvious, but when observed alone, they can be difficult for the inexperienced to tell apart. The veteran bird watcher, however, focuses on the length of the bill relative to the length of the head. The bill of the Greater Yellowlegs is slightly up-turned and is about 1.5 times the length of the head. In contrast, the bill of the Lesser Yellowlegs is only slightly longer than the length of its head.
The ornithologists who discovered the species gave them the scientific genus name of Tringa, which is derived from the Greek work, Trynagas, used by Aristotle to describe a white rumped bird. The assigned species name of the Greater Yellowlegs, melanoleuca is derived from Greek words melas and leucas, which mean black and white. The assigned scientific species name of the Lesser Yellowlegs is flavipes, derived from Latin flavus for yellow and pes for foot.
In flight, the birds display white rumps and some black and white as well as brown and white speckles. Besides brilliant yellow legs, both species have long wings, extending beyond the tails of birds not flying.
Greater Yellowlegs are larger than Lesser Yellowlegs (12.5 to 15 inches versus 9.5 to 11 inches in length; 2 to 2.5 inches versus 1 to 1.5 inches bill length; 23 to 26 inches versus 19.5 to 21.5 inches wing spread).
The sexes are similar in appearance, although the female may be slightly larger. But the personalities of the two species are different. Lesser Yellowlegs are more gregarious, are seen in larger flocks, and are more tolerant of humans. The bill of the Greater Yellowlegs may look slightly upturned.
The calls of the two species are distinctive. That of the Greater Yellowlegs is a loud clear whistle, "few-few-few" which often is an alarm call. Much to the annoyance of a bird watcher trying to identify other birds, this alarm call spooks other shore birds into flight. The Lesser Yellowlegs' call notes are shorter, perhaps one or two cu, cu. The call of the Greater Yellowlegs is much louder and longer in duration.
Only during migration do we see both species in our area and then in shallow marshes and mudflats along the shores of lakes and ponds. The Greater Yellowlegs often calls attention to itself by bobbing its head and calling loudly when approached by a bird watcher. It is interesting to watch both species as they forage by swinging their heads back and forth with the bill in the water. Both species eat insects, small fish, crustaceans, and marine worms. In addition the Greater Yellowlegs sometimes eats some berries. Insects mostly comprise the summer diets of both species.
Both species breed in the upper reaches of Canadian Boreal Forests. The breeding range of the Lesser Yellowlegs extends farther north in Alaska than does that of the other species. From their northern breeding areas, many of both species migrate to a large area between the southern U.S. and southern Argentina. The Greater Yellowlegs, however, are more likely than the Lesser Yellowlegs to stay within the southern U.S. from east to west.
Although incomplete, considerable information about breeding and nesting behavior is known.
In courting, both species have display flights where the male rises and falls with fluttering while giving a whistling song.
Nesting sites of the two species tend to be quite different. Greater Yellowlegs nests on the ground close to water. Lesser Yellowlegs also nests on the ground, but in drier areas, often inland from water. The nests of both species are built in a depression near a log or other object. The Greater Yellowlegs' nest may be concealed in a hummock of moss while that of the Lesser Yellowlegs may be near a log lined with leaves.
Both species usually lay four buff-blotched-with-brown eggs, but those of the Lesser Yellowlegs are more yellowish. Both sexes of both species incubate the eggs, which hatch in about twenty-three days. The precocious hatchlings soon begin running to seek food (mainly insects) while both parents closely watch. The young fly after 18 to 20 days.
The birds form small flocks before beginning migration.
References: Lives of North American Birds by Kenn Kaufman; The Audubon Society Encyclopedia of North American Birds by John K. Terres; Birds of Cleveland edited by Arthur B. Williams.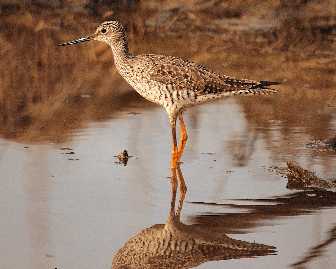 Greater Yellowlegs photo by John Koscinski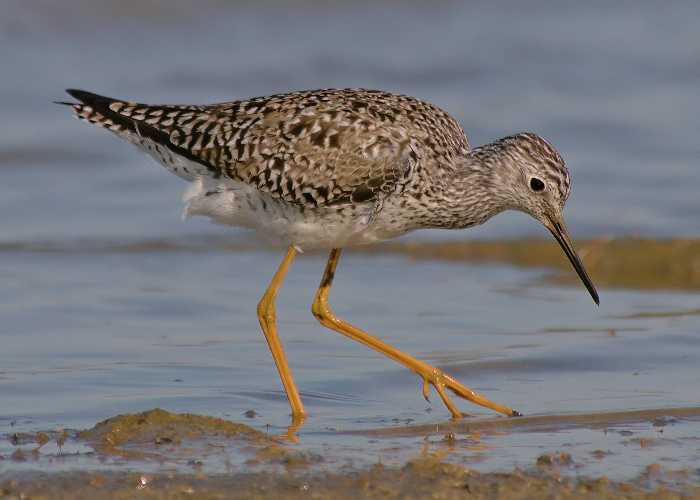 Lesser Yellowlegs photo by John Koscinski
Birding Moment
By Harry Spencer
At 9:30 PM while walking to the parking lot after our September meeting at the Carlisle Visitors' Center, Dick Lee and I were pleasantly surprised to hear repeated questions coming from the Raptor-Center Barred Owl: Who cooks for you? Who cooks for you? Who cooks for you?