Birding News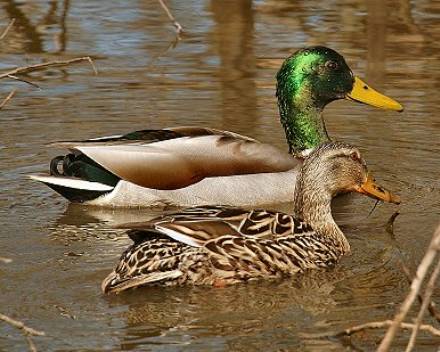 Mallard ducks photograph by John Koscinski
Songbirds
The latest research reveals that songbirds learn their unique vocalizations from their parents. Most animals are born with their species' sounds. But songbirds along with hummingbirds and parrots, as well as these mammals: bats, cetaceans, elephants and humans, are vocal learners. Erich Jarvis, a Duke University neurobiologist, says that when songbirds, parrots, or hummingbirds are producing their special sounds, a set of seven similar structures in the birds' brains become active. This was rather unexpected as the three avian groups are only distantly related. This information is in the National Wildlife Magazine, April/May 2007.
Ohio's Eagles
In 1979 Ohio had only four bald eagle pairs but in 2004 biologists and volunteers counted 108 nests which successfully produced 127 eaglets in 37 Ohio counties. In 2005, 125 active nests have been counted with 85 nests producing young eagles. 2006 reports indicate 136 eaglets have fledged in 39 counties. Most of the nests are along western Lake Erie. The average eagle nest ranges from 3 to 5 feet in width and are 3 to 6 feet deep. The Ohio Department of Natural Resources, Division of Wildlife, takes much of the credit for the eagle increase by developing habitat and protection, fostering of young eagles, and determined observing of nesting behavior.
United States Eagles
According to naturalist Greg Butcher of the National Audubon Society, there are about 7000 bald eagles in the United States. In June 2007, the Department of the Interior is expected to remove the bald eagle from the endangered species list. Florida has the most breeding pairs at 1,133, Wisconsin has 770, and Minnesota has 681. Vermont has no breeding pairs. This information is in the Best Friends Magazine, September/October 2006.
Aullwood Audubon Center
Aullwood is a 350-acre nature sanctuary near Dayton that the Audubon Society regards as one of its premier nature centers in the U.S. There are six miles of walking trails and the woods, ponds, meadows and prairies of Aullwood offer an exciting outdoor museum. The Center is located at 1000 Aullwood Road, Dayton, OH 45414. It's open Monday--Saturday from 9 a.m. to 5 p.m., and on Sunday from 1 p.m --5 p.m. National Audubon Society members get in free. For more information click here.
The Cerulean Warbler
As reported in Defenders of Wildlife Magazine, Spring 2006, the Cerulean Warbler weighs only three ounces and is named for the bright cobalt color of the male. The Warbler lives in the eastern deciduous forest from early spring to late summer. Only the male sings, but the female has unusual behavior of her own: she often tumbles out of her nest on purpose in a free-fall. Just before hitting the ground, the female Warbler opens her wings and flies close to the ground in search of insects. The birds winter in the South American Andes but there has been an 80% decrease in population since the late 1960s.